business excellence Suite (5 modules)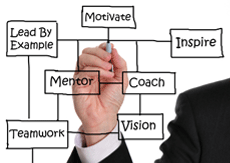 Lead, follow, or get out of the way. We've all heard that saying, but in both personal and business life, it really is true. Being a business leader that people can count on to make the right decisions and execute their visions and plans is the difference between the winners and the followers.
Getting the best out of other people begins with you as a business leader. Knowing and applying the essentials of business effectiveness is a beginning, but it also takes knowing where you're going and how to get there.
These 5 modules on business effectiveness will help you build strong teams and lead them to success, through maximizing organizational effectiveness and results.
Leadership Excellence (How To Develop The Skills of Successful Leaders)
Length: 40 minutes


Vision and Values (Leading with Passion and Purpose)
Length: 34 minutes


Strategic Planning (How To Build a Profitable Department or Company)
Length: 44 minutes


Performance Metrics (How To Measure What Matters)
Length: 22 minutes


Driving Innovation (Paradigm Principles of Success)
Length: 20 minutes


ALLOW "POP-UPS" TO URC
If a course doesn't open within a few seconds it is most likely a "Pop-Up" Blocker.
Be sure to allow "Pop-Ups" to URC. You only have to do this once (per computer), and then just re-open the course again.
TURN UP SPEAKERS
URC Courses are filled with multimedia interactions with narration and music.
Be sure you speakers are turned "ON" and not muted, and turn-up the volume to a comfortable level.
COURSE BOOKMARKS
URC automatically remembers where you left off in a course.
If you need to exit out of a course that you are still in progress in, URC will prompt you when you re-open the course, and ask if you want to resume the course where you left off.
COURSE COMPLETION
Passing score is 80% on the final Retention Test for Course Credit.
Don't worry if you miss an answer, you can always reopen the course, and then scroll down to the Retention Test and retake the quiz again. You receive URC Credit for every course you pass. You can view your Transcripts at the link on the bottom of each web page.