sales excellence Suite (5 MODULES)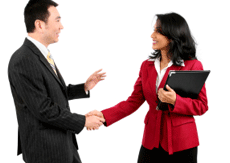 Everyone is actually in "Sales" if you think about it. We are all trying to "Sell" are agendas and ideas to others. Selling is not something that you do with someone, it is a relationship that is value driven and integrity based.
Learning how to identify and qualify opportunity will open many doors in life, and understanding how to position value and present your ideas and solutions for maximum acceptance is the difference between the successful champions, and the well wishers.
When people are interested in something, they usually have questions and concerns that need to be addressed, before they will fill comfortable to move ahead. Understand how to professionally handle objections, deal with concerns, and confirm agreement is a master skill that must me learned and practiced for effectiveness.
These 5 modules on sales effectiveness skills with help anyone to build business relationships and customer referrals for life.
ALLOW "POP-UPS" TO URC
If a course doesn't open within a few seconds it is most likely a "Pop-Up" Blocker.
Be sure to allow "Pop-Ups" to URC. You only have to do this once (per computer), and then just re-open the course again.
TURN UP SPEAKERS
URC Courses are filled with multimedia interactions with narration and music.
Be sure you speakers are turned "ON" and not muted, and turn-up the volume to a comfortable level.
COURSE BOOKMARKS
URC automatically remembers where you left off in a course.
If you need to exit out of a course that you are still in progress in, URC will prompt you when you re-open the course, and ask if you want to resume the course where you left off.
COURSE COMPLETION
Passing score is 80% on the final Retention Test for Course Credit.
Don't worry if you miss an answer, you can always reopen the course, and then scroll down to the Retention Test and retake the quiz again. You receive URC Credit for every course you pass. You can view your Transcripts at the link on the bottom of each web page.