history of u.s. mints suite (5 modules)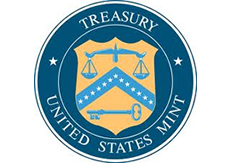 After the American Revolution, our Founding Fathers realized the critical need for a respected monetary system, that would not only symbolize American independence but also create circulating coinage for the United States to conduct its trade and commerce.
The U.S. Mint was created by Congress with the Coinage Act of 1792, and the first Mint building was constructed in Philadelphia, which then the capital of the United States. Then with the discovery of gold in the South three Branch Mints were approved by President Andrew Jackson in 1835, located in Charlotte NC, Dahlonega, GA, and New Orleans LA... All which were closed during the Civil War.
The Gold Rush and discovery of Silver in the West spurred the Creation of additional Branch Mints in San Francisco CA, Carson City NV, and Denver CO, and in the East, the newest Mint facility is the West Point Branch, which is now only production facility for gold, silver and platinum American Eagle coins.
Enjoy the rich history and fascinating stories of the U.S. Mints and our American coinage, which fuels the wheels of commerce, and has made coin collecting our national favorite past time.
ALLOW "POP-UPS" TO URC
If a course doesn't open within a few seconds it is most likely a "Pop-Up" Blocker.
Be sure to allow "Pop-Ups" to URC. You only have to do this once (per computer), and then just re-open the course again.
TURN UP SPEAKERS
URC Courses are filled with multimedia interactions with narration and music.
Be sure you speakers are turned "ON" and not muted, and turn-up the volume to a comfortable level.
COURSE BOOKMARKS
URC automatically remembers where you left off in a course.
If you need to exit out of a course that you are still in progress in, URC will prompt you when you re-open the course, and ask if you want to resume the course where you left off.
COURSE COMPLETION
Passing score is 80% on the final Retention Test for Course Credit.
Don't worry if you miss an answer, you can always reopen the course, and then scroll down to the Retention Test and retake the quiz again. You receive URC Credit for every course you pass. You can view your Transcripts at the link on the bottom of each web page.