rare coin collecting (5 MODULES)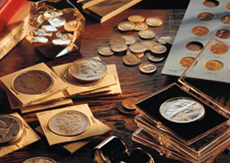 Rare Coin collecting is the world's oldest hobby since recorded history, known as the hobby of Kings.
These interactive online courses are filled with numismatic knowledge with dozens of modules to choose from, covering hundreds of rare coin topics.
Numismatics is both fascinating and profitable… every rare coin has a story to be told, it's a moment in history and time, sealed forever in precious metals, proudly displaying its legacy and beauty in tangible, monetary art, skillfully engraved by the U.S. Mint's Chief Engravers and renown artists and sculptors.
Success leaves clues, and learning about a coins "DNA" (Distinct Numismatic Attributes, has guided collectors in assembling the finest collections that have left a legacy to their commitment to excellence.
Numismatic museums now preserve and protect many of these great collections and their historic pedigrees, so that aspiring collectors and future generations can enjoy and learn from them.
Tremendous coin hoards and shipwrecks have been discovered, bringing to light these hidden numismatic treasures and many still awaiting to be discovered today.
Explore the depths and diversity of rare coin collecting, gain a new appreciation of our coinage, and learn the secrets of the legendary collectors who left clues behind for successful and profitable collecting.
ALLOW "POP-UPS" TO URC
If a course doesn't open within a few seconds it is most likely a "Pop-Up" Blocker.
Be sure to allow "Pop-Ups" to URC. You only have to do this once (per computer), and then just re-open the course again.
TURN UP SPEAKERS
URC Courses are filled with multimedia interactions with narration and music.
Be sure you speakers are turned "ON" and not muted, and turn-up the volume to a comfortable level.
COURSE BOOKMARKS
URC automatically remembers where you left off in a course.
If you need to exit out of a course that you are still in progress in, URC will prompt you when you re-open the course, and ask if you want to resume the course where you left off.
COURSE COMPLETION
Passing score is 80% on the final Retention Test for Course Credit.
Don't worry if you miss an answer, you can always reopen the course, and then scroll down to the Retention Test and retake the quiz again. You receive URC Credit for every course you pass. You can view your Transcripts at the link on the bottom of each web page.