rare coin industry suite (5 modules)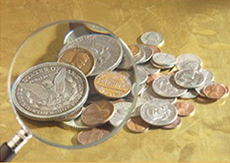 The Rare Coin Industry is a multi-billion dollar industry world-wide, and growing. Numismatic Associations set the standards and guidelines and provide education and support for the industry.
Third-Party Grading and certification makes collecting and investing in rare coins a safe environment and ensures the quality of the coins graded.
Building a rare coin collection for fun or profit takes time and knowledge, it doesn't happen overnight. Learn the art of purchasing the right coins at the right price. There are numerous numismatic resources available from publications, pricing guides, and websites to help guide you along.
Attending industry con shows and auctions is a great way to purchase coins and network with hundreds of coin buyers and sellers in a single location, multiple times a year, all over the country.
Learn about the Rare Coin Industry and the tremendous resources available to the novice to experienced coin collector and investor.
Coin Associations & Organizations (Industry Resources)
Length: 24 minutes

Coin Grading & Certification (Third Party Authentication)
Length: 48 minutes

Coin Purchasing (Sales & Marketing)
Length: 58 minutes

Coin Auctions (Buying & Selling)
Length: 37 minutes


Coin Shows (Conventions & Expos)
Length: 35 minutes


ALLOW "POP-UPS" TO URC
If a course doesn't open within a few seconds it is most likely a "Pop-Up" Blocker.
Be sure to allow "Pop-Ups" to URC. You only have to do this once (per computer), and then just re-open the course again.
TURN UP SPEAKERS
URC Courses are filled with multimedia interactions with narration and music.
Be sure you speakers are turned "ON" and not muted, and turn-up the volume to a comfortable level.
COURSE BOOKMARKS
URC automatically remembers where you left off in a course.
If you need to exit out of a course that you are still in progress in, URC will prompt you when you re-open the course, and ask if you want to resume the course where you left off.
COURSE COMPLETION
Passing score is 80% on the final Retention Test for Course Credit.
Don't worry if you miss an answer, you can always reopen the course, and then scroll down to the Retention Test and retake the quiz again. You receive URC Credit for every course you pass. You can view your Transcripts at the link on the bottom of each web page.